Meghan Markle's royal wedding to Prince Harry is just days away—and I'm going to go out on a limb and guess that she's likely doing whatever she can to look and feel her best on the big day. (I would be, too, if my ceremony was going to be watched by millions of people around the world.)
While we don't know exactly what Meghan's royal wedding diet plan entails, she revealed to The Chalkboard in 2015 that her daily breakfast at the time consisted of a Clean Cleanse vanilla shake with blueberries or an acai bowl with fresh berries, honey, and Manuka honey. She also shared the recipe for her favorite smoothie, which also uses Clean Cleanse vanilla powder.
The Clean Cleanse powder is part of the Clean Program, a 21-day "nutritional cleanse" that, according to the program's website, can boost your skin, sleep, digestion, energy, weight loss, and mental clarity (so, everything, apparently).
The Clean Cleanse's endorsement by the future princess is obviously alluring (I mean, have you seen Meghan?), but what exactly does the Clean Cleanse entail, and is it worth that $475 sticker price? Here's what R.D.s have to say:
How does the Clean Program work?
The Clean Program is an elimination diet, according to the program's website. Over the course of 21 days, you're instructed to drink two shakes and eat one meal a day—paired with supplements and probiotics.
A daily diet plan on the Clean Program includes: a smoothie, supplements, and probiotics for breakfast; a "clean diet meal" for lunch; and another shake and more supplements for dinner.
We're so excited to see so many of you sharing your 21-Day Kits lately! ??♀ Raise your hand if you're cleansing this month! ⠀⠀⠀⠀⠀⠀⠀⠀⠀ ✨ Tap the link in bio to shop now! Don't forget: Today is the LAST DAY to take $25 off any 21-Day Clean Program by entering code ? SPRINGCLEANSE25 ? at checkout! Offer ends tonight at 11:59pm EST. | photo: @power_digital
A post shared by CLEAN (@cleanprogram) on
The program also suggests following a "12-hour window" rule between dinner and the next day's breakfast, to signal the body to go into "deep detox mode," according to the Clean Program's website. Basically, if you have your dinner shake at 7 p.m., the program recommends you don't have your breakfast until after 7 a.m. the next morning.
You're also encouraged to fill up on foods like veggies, fruits, lean proteins, and healthy fats, but are urged to avoid gluten, dairy, processed foods, soda, alcohol, and coffee.
It sounds…restrictive. What do nutritionists say?
Basically, that you'd be better off just eating well. "This is a very pricey and gimmicky program that doesn't appear to be backed by any science, has myriad unsupported health claims, and I would suspect will be targeted by FDA for their unsubstantiated claims," says Julie Upton, R.D., co-founder of nutrition website Appetite for Health.
"I'm not a fan of this cleanse," agrees Scott Keatley, R.D.N, of Keatley Medical Nutrition Therapy in New York City. "It is an elimination diet that focuses on supplements full of herbs, shake powder, and a cookbook for your one real meal a day."
The shake contains rice and pea protein that, in theory, makes a complete protein as long as they weren't denatured in the processing of the powder, Keatley says.
There's also a lot of fiber, which isn't a bad thing…unless your diet is low in fiber to begin with (upping it dramatically in a short period of time can result in tons of gas, to put it bluntly).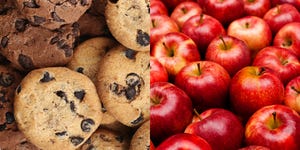 But the most concerning part of the cleanse can be found in the fine print: "They suggest laxatives as well as the cleanse, which just screams disordered eating," Keatley says. "This diet may be unsafe."
Beth Warren, R.D.N., founder of Beth Warren Nutrition and author of Secrets of a Kosher Girl, says she isn't impressed that the plan eliminates foods like soy, dairy, and gluten, which are major sources of fiber and calcium.
Still, the Clean Program may be helpful (sans laxatives) if you want to refocus on whole foods and a more structured eating plan for the short-term, says Warren. It's also good that the program is plant-based and calls for a 12-hour overnight fast, Upton says. "This is great as there is a lot of emerging science showing that a 12- to 16-hour fast is good to help improve metabolism and fat-burning," she says.
If you're interested in a short-term weight-loss kick starter (and you have $475 to blow), have at it, says Warren. (Just skip the laxatives.) For long-term, sustainable weight loss, Upton recommends eating more fruits and vegetables on the regular and implementing your own 12-hour daily fast.
Bottom line: The Clean Cleanse isn't necessarily the worst thing in the world. But maybe just try Meghan's favorite workout moves instead.
Source: Read Full Article