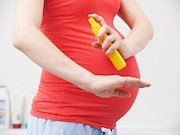 MONDAY, July 2, 2018 — The risk of miscarriage and birth defects due to Zika virus infection during pregnancy may be much higher than thought, research in monkeys suggests.
Scientists analyzed the findings of a number of studies and found that 26 percent of pregnancies in monkeys infected with Zika during the first trimester of pregnancy ended in miscarriage or stillbirth.
That's more than three times higher than the nearly 8 percent rate among women infected with Zika early in pregnancy found in a study published earlier this year. But animal research doesn't always match human study findings.
It's likely that the actual rate of human miscarriage and stillbirth among pregnant women infected with Zika is less than 26 percent, but much higher than previously believed, said study author Dawn Dudley. She is a scientist in the department of pathology and laboratory medicine at the University of Wisconsin-Madison.
"There are limitations to the human studies, which rely on symptomatic infections," Dudley explained in a university news release.
"Women get enrolled in the studies because they have Zika symptoms, but we know that up to half of people who have Zika don't show any symptoms at all. So, the pregnancy studies are probably missing half of the people who have Zika," she said.
Some women may have Zika-related miscarriages before they know they're pregnant, and others don't seek follow-up care for later-term miscarriages due to cultural or other reasons.
"You could never account for those women having a miscarriage due to Zika virus infection," Dudley said.
The new study was published July 2 in the journal Nature Medicine.
More information
The March of Dimes has more on Zika and pregnancy.
Posted: July 2018
Source: Read Full Article