Hagop Kantarjian, MD, has been named the recipient of the 2023 David A. Karnofsky Memorial Award by the American Society of Clinical Oncology (ASCO) in recognition of his practice-changing clinical-translational research in leukemia.
This award is the society's "highest scientific honor, and I am extremely happy and honored to receive it," Kantarjian commented in an interview with Medscape Medical News.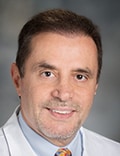 Dr Hagop Kantarjian
Kantarjian serves as the chair of the Department of Leukemia and currently holds the Samsung Distinguished University Chair in Cancer Medicine at the University of Texas MD Anderson Cancer Center.
"No doubt that this is not an individual award. It represents an award for the accomplishments of all the leukemia faculty at MD Anderson across four decades. It's really a teamwork effort that led to so many discoveries and improvements in treatment and care of patients with leukemia," he commented.
The David A. Karnofsky Memorial Award has been presented annually since 1970 to recognize oncologists who have made outstanding contributions to cancer research, diagnosis, or treatment, ASCO noted.
From Lebanon to Texas
Kantarjian received his medical degree from the American University of Beirut, in Lebanon, in 1979 and completed his residency in internal medicine at the same institution in 1981.
It was his experience at MD Anderson as a young medical student and later as a fellow that fueled his interest and career in leukemia, he said.
"In 1978, I took a 4-month elective at MD Anderson, and I soon realized how different and innovative the atmosphere at MD Anderson was compared to where I was training in Lebanon," Kantarjian told Medscape Medical News.
Working with mentors that included MD Anderson heavyweights Emil Freireich, MD, Kenneth McCredie, MD, and Michael Keating, MD, helped shape his career and guide his leukemia research, he said.
Transformative Impact on Leukemia Outcomes
The award citation notes that over the past four decades, Kantarjian's research has transformed some standards of care and has dramatically improved survival in several leukemia subtypes, including chronic myeloid leukemia (CML), acute myeloid leukemia (AML), myelodysplastic syndrome (MDS), and acute lymphocytic leukemia (ALL).
"Four decades ago, most of the leukemias were incurable. Today, most of the leukemias are potentially curable with targeted therapies. That's what I am most proud of," Kantarjian told Medscape Medical News.
Among Kantarjian's contributions to the field of leukemia:
Developing the HYPER-CVAD regimen (hyperfractionated cyclophosphamide, vincristine, doxorubicin, and dexamethasone) as a standard-of-care, frontline therapy for adults with ALL;

Establishing clinical biology parameters of CML, including definitions of CML phases and cytogenetic responses, and establishing new prognostic factors that were subsequently adopted in studies of tyrosine kinase inhibitors;

Leading the development of decitabine and epigenetic hypomethylation therapy for MDS and for older/unfit patients with AML;

Pioneering research with hypomethylating agents (HMAs) in combination with venetoclax, which led to FDA approval of HMA-venetoclax combinations for older/unfit patients with AML;

Championing the development of clofarabine, conducting animal toxicology studies, and leading subsequent phase 1 and 2 trials and pivotal phase 3 and 4 trials that led to FDA approval of clofarabine for pediatric ALL;

Developing several FLT3 inhibitors, isocitrate dehydrogenase inhibitors, and venetoclax, which all received FDA approvals for the treatment of AML and its subsets;

Developing regimens for inotuzumab and blinatumomab combined with chemotherapy for adults with pre-B ALL;

Working on the development of imatinib, dasatinib, nilotinib, bosutinib, ponatinib, and omacetaxine, which all received FDA approval for CML therapy.
"Dr Kantarjian's long list of accomplishments and groundbreaking discoveries are a testament to his lifelong commitment to impactful cancer research and patient care," Giulio Draetta, MD, PhD, chief scientific officer at MD Anderson, said in a statement.
Giving Back
Kantarjian has authored more than 2200 peer-reviewed articles and more than 100 book chapters. In 2012, he co-founded the Society of Hematologic Oncology, which has now expanded worldwide.
He has served on multiple ASCO committees throughout the years and served on the ASCO board of directors from 2010 to 2015.
Kantarjian is passionately involved in mentoring and education. In 2000, he created the MD Anderson Leukemia Fellowship, which now trains about 10 fellows in leukemia annually.
He is a nonresident fellow in healthcare at the Rice Baker Institute and has written extensively on important healthcare issues in cancer, including the importance of universal equitable healthcare, healthcare safety nets, healthcare as a human right, and the problem of drug shortages.
Kantarjian is a strong advocate for more affordable drug therapies. For years, he has been outspoken about the high price of leukemia drugs and has written high-profile articles in medical journals. He has even appeared on a popular televison program to publicize the issue.
"Drug costs have been increasing over time. If you think about it, even if you discover a drug that cures cancer, but the drug is affordable for the 1% of the patients, then you have no cure for cancer," Kantarjian told Medscape Medical News.
"I started speaking about the issue of the cancer drug costs in 2012. Unfortunately, we have not made progress simply because of the for-profit nature of healthcare and the strong lobbying by drug companies," he added. Kantarjian hopes new legislation will eventually turn the tide.
Kantarjian has received many other honors throughout his distinguished career, including the American Lebanese Medical Association's Lifetime Achievement Award, the American Association for Cancer Research's Joseph H. Burchenal Memorial Award, and the Leukemia Society of America's Outstanding Service to Mankind Award. He also was named an ASCO Fellow and a Leukemia Society of America Special Fellow and Scholar.
Kantarjian will be presented with the 2023 David A. Karnofsky Memorial Award, which includes a $25,000 honorarium, and will give a scientific lecture about his research at the upcoming ASCO annual meeting in Chicago in early June.
For more news, follow Medscape on Facebook, Twitter, Instagram, and YouTube.
Source: Read Full Article