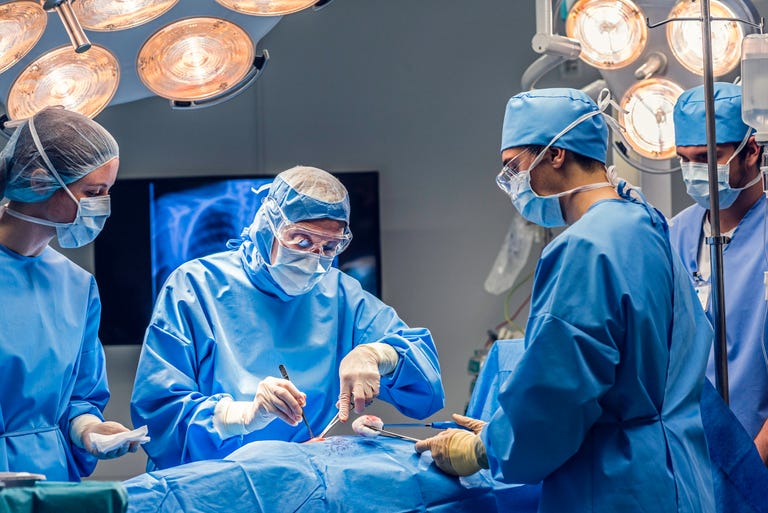 A top surgeon in the U.K. is under investigation after reportedly removing a woman's ovaries without her consent. The woman, 58-year-old Lucinda Methuen-Campbell, killed herself two years after the operation.
Anthony Dixon, a surgeon and consultant at Spire Hospital in Bristol, England, reportedly removed Lucinda's ovaries during an operation to treat a bowel disorder in 2016, according to the BBC. Lucinda, who was 54 at the time of the surgery, told the BBC before her death that removing her ovaries was never mentioned.
"He said he thought he'd done me a favor," Lucinda said. "And he said, 'I thought you know, a woman of your age wouldn't really need her ovaries.'"
"I said 'Why did you remove them?' and he just said 'They were in the way.'"
"My life is absolutely ruined but you know, I can't say that it's Mr. Dixon's ruined my life," Lucinda said.
The BBC reports that coroner Aled Gruffydd ruled Lucinda's death a suicide, and said that her surgery and ovary removal led to her death. "The operation on Mrs. Methuen-Campbell was unsuccessful and made her pain worse and it affected her mental health," Gruffydd said. "The pain she was in led to her taking her own life."
She reportedly left a note for her 19-year-old son that said, "I'm sorry Angus, I love you, best son ever." Angus also told the BBC that his mom "was in a great deal of pain after the operations and she was very upset that her ovaries had been removed."
Dixon is currently suspended from two hospitals in Bristol, and is under investigation by England's National Health System, the General Medical Council, and North Bristol NHS Trust.
Dixon has previously said that the majority of operations are successful, and that all of his operations are done in good faith, reports the Telegraph.
Womenshealthmag.com reached out to Spire Healthcare for comment, but did not receive a response by press time.
North Bristol NHS Trust medical director Chris Burton, told the BBC: "It is very important that we investigate the matter fully and it would be inappropriate for us to comment on specific details while our investigations are ongoing." Burton did, however, confirm that Dixon is not currently providing clinical services at either hospital.
Source: Read Full Article