CDC vaccine advisers vote to recommend COVID-19 boosters for all adults
Doctor Kevin Campbell explains on 'Your World' the positive impact of the COVID booster shot as the CDC clears boosters ahead of flu season.
Dr. Anthony Fauci has cautioned that health officials may change the definition of "fully vaccinated" to include COVID-19 booster shots – if the data suggests it.
The Centers for Disease Control (CDC) last week recommended that all adults aged 18 or older should receive a vaccine booster shot six months after their final shot of a completed vaccine regimen.
Connecticut Gov. Ned Lamont and New Mexico Gov. Michelle Lujan Grisham – both Democrats – have said that the definition of fully vaccinated should now include a booster shot as each pushed for all adults in his or her state to get the additional shot.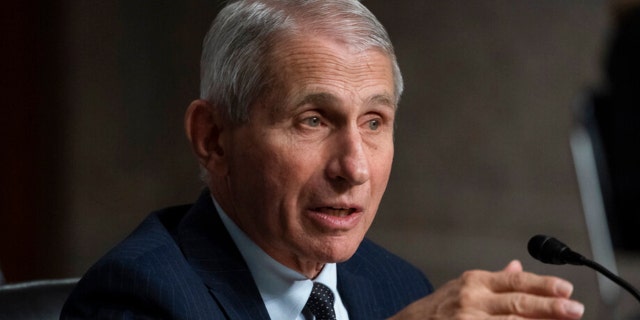 Dr. Anthony Fauci, director of the National Institute of Allergy and Infectious Diseases, speaks during a Senate Health, Education, Labor, and Pensions Committee hearing on Capitol Hill, Thursday, Nov. 4, 2021, in Washington. (AP Photo/Alex Brandon)
Fauci said that health officials do not plan to change the definition of fully vaccinated to include booster shots, but he admitted that may happen.
"We're going to take a look right now at what the durability is of the booster," Fauci told "State of the Union" host Dana Bash. "We're going to follow people who get boosted."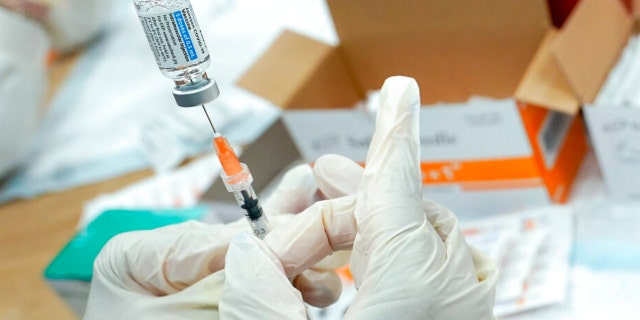 A registered nurse fills a syringe with the Johnson & Johnson COVID-19 vaccine at a pop-up vaccination site in the Staten Island borough of New York, April 8, 2021. New York City officials urged as many people as possible to get COVID-19 booster shots on Monday, Nov. 15, 2021, as officials around the state warned of rising numbers of infections. (AP Photo/Mary Altaffer, File) 
"People should not be put off by the fact that as time goes by and we learn more and more about the protection that we might modify the guidelines," he explained. "That's what we've been saying all along by follow the science, things change and you have to follow the data."
For now, the definition of fully vaccinated will remain as two shots of a Pfizer or Moderna regimen or one shot of a Johnson & Johnson vaccine.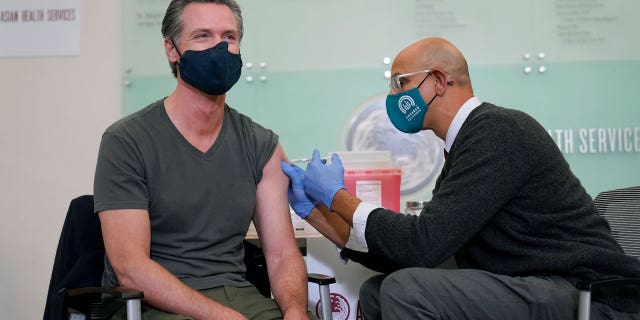 California Gov. Gavin Newsom, left, receives a Moderna COVID-19 vaccine booster shot from California Health and Human Services Secretary Dr. Mark Ghaly at Asian Health Services in Oakland, Calif., Wednesday, Oct. 27, 2021. In a letter to health providers dated Tuesday, Nov. 9. 2021, Dr. Tomas Aragon, the State Public Health Officer, told providers they should "not turn a patient away who requesting a booster" if they are age 18 and up and it has been six months since they had their second Moderna or Pfizer vaccine or two months since their single Johnson & Johnson shot. (AP Photo/Jeff Chiu, File)
(AP Photo/Jeff Chiu, File)
Fauci later said on ABC's "This Week" that he hopes the booster shot will not wane the same way the initial regimens did, which would allow Americans to avoid more regular booster shots at either six months or even a year.
"We would hope, and this is something that we're looking at very carefully, that that third shot with the mRNA not only boosts you way up, but increases the durability so that you will not necessarily need it every six months or a year," Fauci said. "We're hoping it pushes it out more."
"If it doesn't, and the data shows we need to do it more often, then we'll do it, but we want to make sure we get the population optimally protected and you do whatever you need to do."
Fauci urged parents to vaccinate their children now so that they will be fully vaccinated by Christmas.
Source: Read Full Article